Project Info
AWS lambda python coders | AWS API gateway python programmer company
Custom AWS api lambda Serverless developers.
Automatic login to website and retrieving user metrics.
User metrics is retrieved from websites using background aws lambda jobs
Our aws lambda developer team completed this project.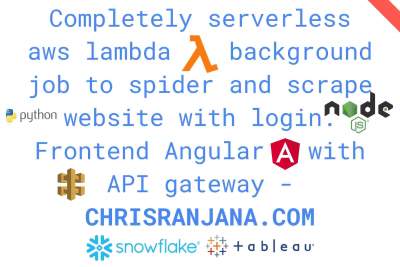 The aws lambda job is triggered automatically using cloudwatch.
Multiple instances of aws lambda retrieves the information from the websites.
Our aws lambda programmer company completed this aws lambda web scraper. Lambda web spider.
The frontend was created by our angular developer team.
Angular interacts with amazon api gateway.
The amazon api gateway had lambda endpoint.
The frontend was angular. The backend was amazon api gateway lambda. Skillfully completed by our aws developer team.
This serverless architecture was designed and created by our serverless architect team.